The Phonebook.com is a directory part of BT Group
edited from London, United Kingdom.

The directory is now fully integrated into the BT.com website.
The "ThePhonebook.com" domain is redirected to BT.com

2006 the domain "Find y Past.com"
was acquired by xx.
For several years "The Phonebook.com"
was edited as a seperatly hosted website.

The domain changed hands several time.
2004 it was aquired by another US Phone directory called "ThePhonebook.com"
2000 it was redirected to the US phonedirectory 555-1212.com.
1996 was the first registration of "ThePhonebook.com".


Until June 2001 British Telecom published
a previous directory, called Yellow Pages.
The directory (name shortened to Yell.com)
was sold as part of a restructuring and debt reduction program.
"Yellow Pages" and "White Pages" are the expressions
used in most countries of the world
to designate phone directories.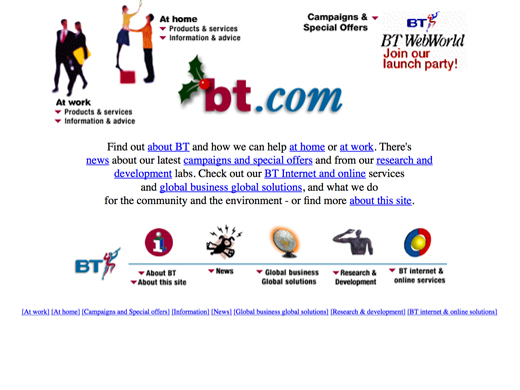 Until 1991
1660 The General Post Office (GPO) was officially established
in England by King Charles II .
A Postmaster General was overseeing the company.
(11 years later, 1671 Leon Pajot and Louis Rouille started in Paris on 9 rue des Déchargeurs
the Royal Postal Services in France
Two hundered years later opened at the exact same almost spot the Cremerie de Paris
from where in 2000 was invented the Phonebook of the World.
In the 1990s one of the first Internet cafes, Cremerie de Paris became a Hotpot for Brand Expos,
The courtyard is still exactly the same and the old stones help to work on the
the Phonebook of the World.)

Initially a state postal system
GPO later also became a telecommunications carrier.

see also the history of BT



TV advertising for BT.com