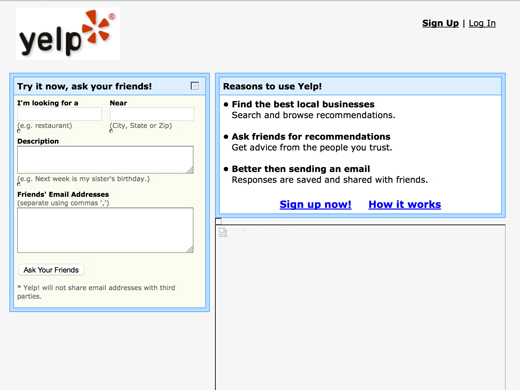 The screenshot of the first yelp.com website
edited as a Business Directory
dates from 2004.
The
yelp.com domain
was first registered in 1996.
It changed hands several times
and was not renewed in 2003.
The domain was registered again
2003
december 12
2004 Yelp from San Francisco
bought the domain for $5.000.
They had initially planned to call their directory
Yocal
(a combination of "Yellow" and "Local")
but they could not get hold of the domain name.
Finaly they came up with the name "y elp"
which is a deviation of the world "help"
and the world "y ellow pages".
Yellow Pages
and
White Pages
are an international standard for directories
throughout the world.
The words go back to the times
Alexander Graham Bell had invented the telephone.